Archive for April, 2011
April 28th, 2011 at 12:58 pm
A new feature on the Tollway's Web site now allows customers who receive a toll violation notice to view their license plate images and dispute toll violations online. A How-To Guide A violation notice number and license plate number are needed to enter the violation database.
1. Once a notice is accessed,
customers can choose from two
dispute options: "plate incorrect"
and "missing image."
2. An automated e-mail confirmation
is sent to confirm that the dispute
has been received.
3. Once a dispute has been reviewed
by Tollway staff, notification of the
decision is sent via e-mail.
Enhancing Customer Service
Customers who receive a violation notice
have a right to know that the image captured of their vehicle is
accurate. Providing access to license plate images and making it
easier to dispute violations is an important part of enhancing customer
service and increasing transparency at the Tollway.
Read the news release
Enter the online violations database
April 22nd, 2011 at 12:45 pm
Michigan: Police Search Cell Phones During Traffic Stops
ACLU seeks information on Michigan program that allows cops to download information from smart phones belonging to stopped motorists.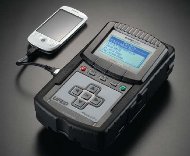 The Michigan State Police have a high-tech mobile forensics device that can be used to extract information from cell phones belonging to motorists stopped for minor traffic violations. The American Civil Liberties Union (ACLU) of Michigan last Wednesday demanded that state officials stop stonewalling freedom of information requests for information on the program.
ACLU learned that the police had acquired the cell phone scanning devices and in August 2008 filed an official request for records on the program, including logs of how the devices were used. The state police responded by saying they would provide the information only in return for a payment of $544,680. The ACLU found the charge outrageous.
"Law enforcement officers are known, on occasion, to encourage citizens to cooperate if they have nothing to hide," ACLU staff attorney Mark P. Fancher wrote. "No less should be expected of law enforcement, and the Michigan State Police should be willing to assuage concerns that these powerful extraction devices are being used illegally by honoring our requests for cooperation and disclosure."
A US Department of Justice test of the CelleBrite UFED used by Michigan police found the device could grab all of the photos and video off of an iPhone within one-and-a-half minutes. The device works with 3000 different phone models and can even defeat password protections.
"Complete extraction of existing, hidden, and deleted phone data, including call history, text messages, contacts, images, and geotags," a CelleBrite brochure explains regarding the device's capabilities. "The Physical Analyzer allows visualization of both existing and deleted locations on Google Earth. In addition, location information from GPS devices and image geotags can be mapped on Google Maps."
The ACLU is concerned that these powerful capabilities are being quietly used to bypass Fourth Amendment protections against unreasonable searches.
"With certain exceptions that do not apply here, a search cannot occur without a warrant in which a judicial officer determines that there is probable cause to believe that the search will yield evidence of criminal activity," Fancher wrote. "A device that allows immediate, surreptitious intrusion into private data creates enormous risks that troopers will ignore these requirements to the detriment of the constitutional rights of persons whose cell phones are searched."
The national ACLU is currently suing the Department of Homeland Security for its policy of warrantless electronic searches of laptops and cell phones belonging to people entering the country who are not suspected of committing any crime.
April 22nd, 2011 at 10:58 am
By Jay Wiegman, Office of the State Appellate Defender
Prior to his jury trial on a charge of possession of a controlled substance with intent to deliver, defendant Ira Mullins filed a motion in limine seeking to bar admission of his prior felony narcotics convictions for purposes of impeachment. The trial court withheld ruling until defendant testified. After his conviction, defendant appealed, and argued that the trial court abused its discretion in both delaying its ruling on his motion in limine and in allowing the admission of a prior conviction for impeachment purposes. The Appellate Court affirmed.
The Supreme Court then vacated the First District's original order, and directed the Appellate Court to reconsider its decision in light of People v. Patrick,
233 Ill.2d 62 (2009), in which case it was held that, if a ruling is requested before trial on whether defendant's prior convictions can be used to impeach his testimony, the court should make a ruling at that time, except in those rare instances where it lacks enough information to do so.
The Appellate Court then reversed, holding that the trial court abused its discretion, and that the error substantially prejudiced the defendant.
In the majority opinion written by Justice Freeman and joined by Justice Burke, the Illinois Supreme Court reversed the Appellate Court.
The majority readily concluded that the trial court correctly determined that the prior conviction was admissible for impeachment purposes.     As
the State had acknowledged that the trial court erred by delaying its decision on whether to admit defendant's prior convictions until the time for his testimony, the only remaining question was how to determine whether the error was harmless or reversible. The Court observed that the State had contended that the Appellate Court misconstrued Patrick and failed to conduct an appropriate harmless-error analysis, but had instead improperly treated the trial court's error as a de facto structural error which affected the integrity of the trial and required automatic reversal of defendant's conviction without any showing of prejudice. Conversely, the defendant viewed Patrick as establishing that the proper analysis is whether the trial court's error in delaying the ruling on defendant's motion in limine was harmless beyond a reasonable doubt.
To resolve this question, the Court turned to its recent analysis of Patrick in People v. Averett, 237 Ill.2d 1 (2010).  In Averett, the Court had discussed the defendant's constitutional right to testify and how the trial court's decision on the motion in limine impacts the defendant's decision and thus his entire trial strategy. Deferring this decision until defendant testifies is an abuse of discretion, and thus was treated in Patrick as a question of harmless-error.  Because harmless error analysis was used, the error could not have been considered a structural error, and therefore automatic reversal would be inappropriate.  The appropriate standard of review, therefore, was whether the trial court's error was harmless beyond a reasonable doubt.  In Mullins, the majority determined that the error was harmless because, even were the trial court's error removed, a retrial would end with the same result.
There were two special concurrences, one by Chief Justice Kilbride, and one authored by Justice Garman and joined by Justices Thomas, Karmeier and Theis.  Both special concurrences agreed with the result reached by the majority, but expressed different views as to the import and meaning of Patrick.  Justice Garman expressed the view that "the more important it is to the defense theory of the case to have the defendant testify, the more harm is done by improperly deferring the ruling," while the Chief Justice believes that "the focus of our harmless-error inquiry under Patrick is not on the defendant's need to testify but, rather, on the defendant's ability to make an informed decision about whether to testify."